Quick Links
Announcements
Office Hours
8:30 am- 4:30 pm
Monday, Wednesday, Thursday and Friday
11:00 am - 4:30 pm
Tuesday
Phone Hours
8:30 am- 3:00 pm
Monday, Wednesday, Thursday and Friday
11:00 am- 3:00 pm
Tuesday

=
Training for Child Care Providers
TRAINING FOR CHILD CARE PROVIDERS
The Child Care Resource Service provides an abundance of training opportunities to fullfill our commitment to the development of quality childcare.
"Getting Out," "Meeting new people,""Sharing ideas," are reasons to join with other child care professionals in trainings. Gatherings of child care providers impart a strength in numbers and generate a sense of support from the wealth of ideas and shared values.
TRAINING POLICIES & PROCEDURES
REGISTRATION for Training can be done by:
Completing and returning the registration form enclosed in the training calendar.
Obtaining a registration form from our website and returning it to the CCRS Office.
Calling our agency (for free events only).
Emailing our agency (for free events only).
Please Pre-Register (even if you are an association member) so that we can accommodate all participants with comfortable seating, training certificates, handouts and refreshments (if provided).
CCRS does not limit the number of people who can register from a child care program. Registration is on a first-come, first-serve basis.
Generally, there needs to be 10 people registered to hold a workshop.
Walk-ins are allowed to some but not all workshops, and...if you have not pre-registered , we cannot guarantee you handouts, notify you if a workshop has changed location or is canceled, or that the workshop has been closed for full enrollent.
Registration when payment required:
Payment (check, money order, or cash) for those events which are not free must be received in our office with a registration form by noon on the business day before the event, unless otherwise advertised, or approved by a CCRS training staff member.
Confirmation of your registration:
When you pre-register you will receive a confirmation postcard listing all the workshops for which you have signed up. Please hold onto it as it will serve as your only reminder.
TRAINING PARTICIPATION
Late Arrivals:A fifteen (15) minute grace period will be given at all training sessions. This grace period begins at the advertised start time. Participants will not be allowed in the training after the 15 minute grace period.
Early Departures: To receive a training certificate, participants must stay until the trainer is finished.
Participants must respect the learning space of all. Participant behavior that is disruptive to other participants will not be tolerated. The individual will be given the choice to stop the behavior or leave the workshop.
Our workshops are for adults. Children are not to be in attendance at training sessions (unless specifically invited or to be a part of the training).
CANCELLATION
Participant cancellation:To receive credit or refund for training sessions with a fee, participants must cancel by noon on the business day prior to the training session.
Some workshops have a waiting list:Please let us know if you are unable to attend so that someone else can take advantage of the training opportunity. We also want to use training funds wisely and prepare materials only for those who are coming.
No-show registrants: Pre-registration fees may be non-refundable for no-show registrants. Registrants will not be charged or billed fees for non-attendance after training has occurred. No-show registrants will not be denied access to future trainings, as long as they follow other training policies and procedures.
AGENCY CANCELLATION
Workshop cancellation for low enrollment will be done no earlier than 5 business days and no later than 1 business day prior to the session. Decisions about workshops canceled for weather will be made by noon on the day of the training. We will make every effort to notify participants of the cancellation.
If at all possible, workshops canceled for weather or reasons other than low enrollment will be rescheduled at a later date. If CCRS cancels a training session, credit for another session or refund will be available if CCRS is the fiscal agency (i.e., the payment was made to the University of Illinois through Child Care Resource Service).
CERTIFICATES
To receive a training certifcate, participants must stay until the trainer is finished.
If you misplace or lose your certificate, replacement certificates must be issued at the request of the individual participant. Certificates will only be released to the individual who participated at the training session. At this time, there is no fee for this service.
TRANSCRIPTS
CCRS can issue a summary or transcript of trainings taken by an individual participant through our agency with our Data Tracking Program (DTP).
DTP transcripts may be issued at the request of an individual participant. To ensure confidentiality, transcripts are to be released to the individual. At this time, there is no fee for this service.
TRAINING CALENDAR
Level 1 ECE Credential is available in local trainings or online. Click this link:
Information for the Program for Infant Toddler Care (PITC): Click this link:

The current workshops and training classes are listed in the months they are held.
Use the following tabs to view the listings.









If you do not find what you are looking for please check
another month or contact us at 1 (800) 325-5516 option 3.
Click on this link to the forms page to print out the REGISTRATION FORM
to sign up for trainings (fee or not) or click on the start button to
sign up for FREE trainings only online . Sorry - this option is unavailable at this time!
Please either submit the registration form, email or call CCRS!

To see the training calendar click below.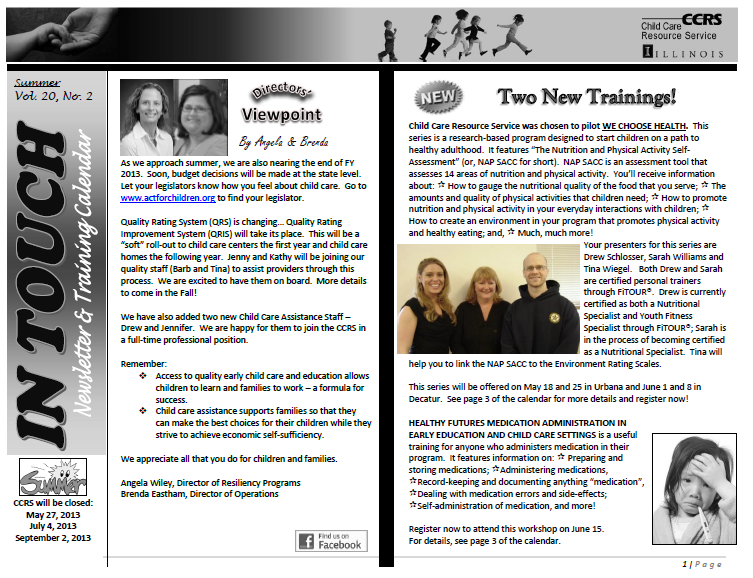 SELF STUDIES
The Child Care Resource Service has self-study videos and materials available for child care providers to check out.
To view the specifc topics in each video series, click the tabs below:

The Whole Child: A Caregiver's Guide to the First Five Years

The CCP Professional Development Series

Preventing Discipline Problems
The following GUIDELINES are followed for Self Studies:
The child care provider must be listed on the CCRS database.
There is a fee of $5.00 to check out a self-study for one month. Please make checks payable to the University of Illinois.

One self-study at a time may be checked out. Up to two people (on same license) can complete it for c

redit. The video can be viewed together, but the self-study questions should be completed independently.
Each video is approximately 30-minutes long and when combined with the self-study questions and activities, should require at least two hours of time to complete.
Once we receive the payment, the provider is contacted and made aware of which self-studies are available. The provider's name can be put on a waiting list if he/she has a particular request which is not at that time available.
A replacement fee will be assessed for lost or damaged tapes or DVDs.
Self-Studies should be dropped off at our Urbana office or returned to us via U.S. Mail or U.P.S.
There will be a $5.00 monthly overdue fee. (Non-payment can affect future access to the self-study ressrouces)
CPR/FIRST AID TRAINING
The following lists may be helpful to providers in meeting DCFS requirements for CPR training in locations according to COUNTIES:
LISTING OF CPR/FIRST AID INSTRUCTORS IN CCRS SDA AREA

Jessica McMahon

Contact person:

Jessica McMahon (217) 355-1197

All Counties

Carle Foundation Hospital

Rural Health and Farm Safety

Register through: www.carle.org

Click on Classes and Events

Champaign, Douglas, Piatt, Vermilion

CPR Lifesavers
Doug and Cindie Olsen

Contact persons:
Doug and Cindie (217) 586-3833

All Counties

Champaign Fire Department
1810 N. Mattis, Champaign, IL

CPR Only

Ask for Sue (217) 403-7206

wyattse@ci.champaign.il.us

Champaign County

People from other counties are welcome!

Vital Education
116 Shawnee Lane, Loda, IL

Contact: Jennipher K. Wilson, EMT at:
(877) 558-7377 (toll free)

or email: vital.education@att.net


Central Illinois

Will come on-site for a group of

at least 3 people.

Urbana Fire and Rescue
400 S. Vine Street, Urbana, Illinois

Contact: Cathy Taylor: (217) 840-7174

or cataylor@urbanaillinois.us

Champaign County

People from other counties are welcome!

American Heart Association
www.americanheart.org

For classes near you, contact the American Heart Association

Provena Regional Emergency

Medical Services
1400 W. Park , Champaign, IL

Classes held at Champaign Park District

Springer cultural Center

301 N. Randolph, Champaign

Call: (217) 398-2550

Champaign, Piatt, Vermilion

People from other counties call for information!

Richland Community College
One College Park , Decatur, IL

Contact Person:
Andy Perry (217) 875-7211, ext. 219

or email: aperry@richland.edu

Macon County & Piatt County

People from other counties are welcome!

Kirby Ambulance Service
1111 N. State , Monticello, IL
Crystal: (217) 762-4400

Piatt County

Hoopeston Regional Health Center


NOT AVAILABLE AT THIS TIME!

Vermilion County

Iroquois Chapter of the

American Red Cross
214 E. Walnut Street, Watseka, IL

Contact Number:

(815) 432-4659

Iroquois County

American Red Cross
404 Ginger Bend Dr., Champaign

(217) 351-5861

www.redcrossillinois.org

Champaign, Douglas,Piatt, Vermilion

American Red Cross

Mid Illinois Chapter
2674 N. Main Street, Decatur, IL

Jennifer Hendricks (217) 428-7758

www.midillinoisredcross.org

Macon, Shelby, Moutrie, DeWitt counties
Professional Links
Accreditation
NAFCC -- National Association for Family Child Care (www.nafcc.org)
NAEYC -- National Association for the Education of Young Children (www.naeyc.org)
NACCP -- National Association of Child Care Professionals (www.naccp.org)
NAA -- National After School Association (naaweb.org)
Credentials
CDA Credential -- Council for Professional Recognition (www.cdacouncil.org)

CCP -- Certified Childcare Professional within National Child Care Association (www.nccanet.org)
NAC -- National Accreditation Commission for Early Care and Education Programs (www.naccanet.org)
Illinois Gateways to Opportunity offers the following credentials:
Illinois Directors Credential (IDC)

Illinois Early Childhood Education Credential (ECE)

Infant Toddler Credential (ITC)

Level 1 ECE Credential

IGO

-- Illinois Gateways to Opportunities (www.ilgateways.com)